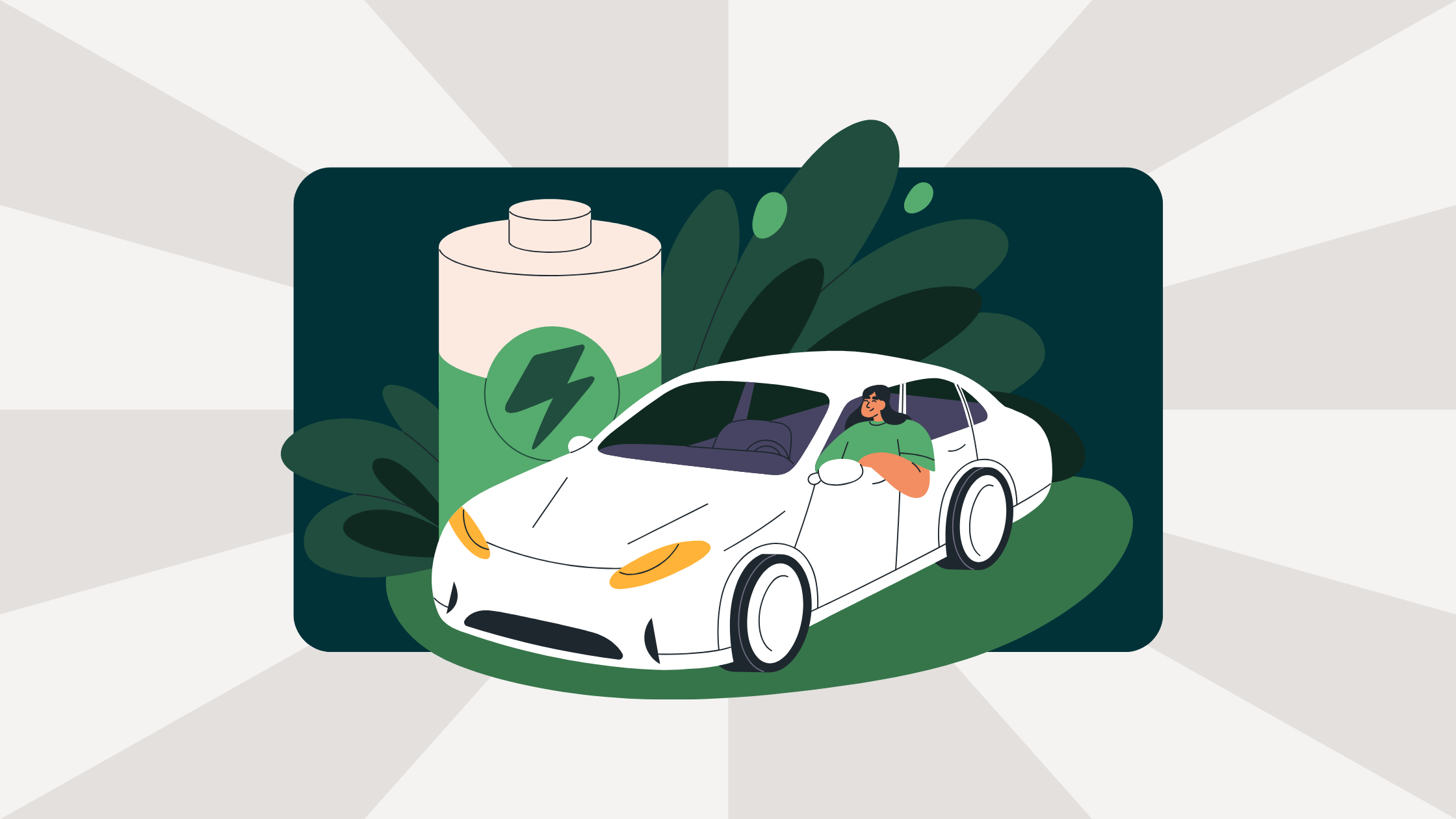 What is going on with Electric Vehicles?
Not long ago, electric vehicles (EVs) were niche.
Nowadays we are wondering: "When will EVs be available for everyone?"
This article provides a perspective on that question. We will also look into the future strategies of OEMs (car makers) and their suppliers, since electric motor technology uses different power sources, requires different electrical and electronic (EE) architectures, needs different parts, and will likely have a different supply chain model than the internal combustion engine (ICE). Finally, we will address the potential impacts that EVs might have on other industries.
The rise of EVs
Global EV sales forecast, %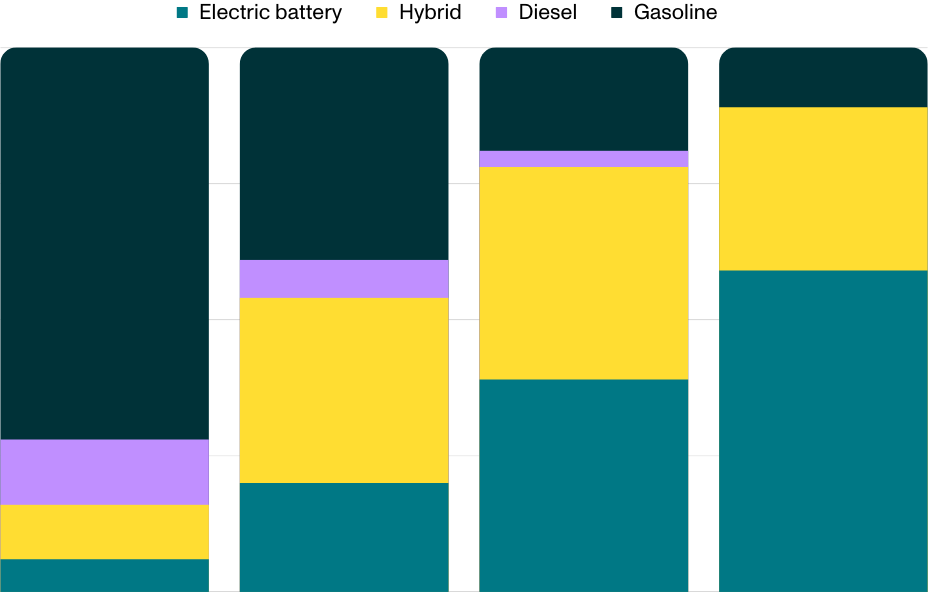 Source: Protocol
EVs have been growing significantly in the last few years: sales doubled in 2021, reaching 6.6 million. In the 2nd quarter of 2022, 2.18 million EVs were sold worldwide, a 61% growth YoY. The trend is expected to remain strong in the long run, accounting for 59% of total vehicle sales globally in 2035. Along with this trend, it is predicted that diesel vehicles will cease production, and combustion engine vehicles will reduce their share from 72% in 2021 to 11% in 2025.
The top 5 countries that had the highest percentage of plug-in electric vehicles in 2020 were Norway, with 74.7%, followed by Iceland (55%), Sweden (32.2%), the Netherlands (24.6%), and Finland (18.1%).
Growth drivers and barriers to EV adoption
EVs are promoted by both governments and OEMs. In addition, consumers are demonstrating a greater interest in EVs. The key barriers to EV adoption, particularly charging stations, charging time, range, and cost, are being tackled, promising a high potential growth for EVs!
Growth drivers: EVs are supported by many stakeholders
OEMs are forced to comply with local legislation to reduce their carbon footprint. For example, electrified vehicles will take a 50% share of the total deliveries by BMW in 2030. Mercedes Benz, with a more ambitious plan, will move its entire product portfolio to EVs in 2030, and Stellantis intends to sell 100% EVs in the same year. Besides European OEMs, Chinese players are also pushing EV sales. Great Wall Motors will stop selling combustion engine vehicles, and Changan will opt for 60% of new energy vehicles in total deliveries by 2030.
Government policies encourage EV purchases through ending mass production of gas-powered vehicles (in 2035, US) or phasing out the combustion engine (in 2035, EU). In addition, some subsidiary programs have been launched by different governments, such as incentives for private EV purchase and EV charging or tax exemption on purchases of new energy vehicles in China.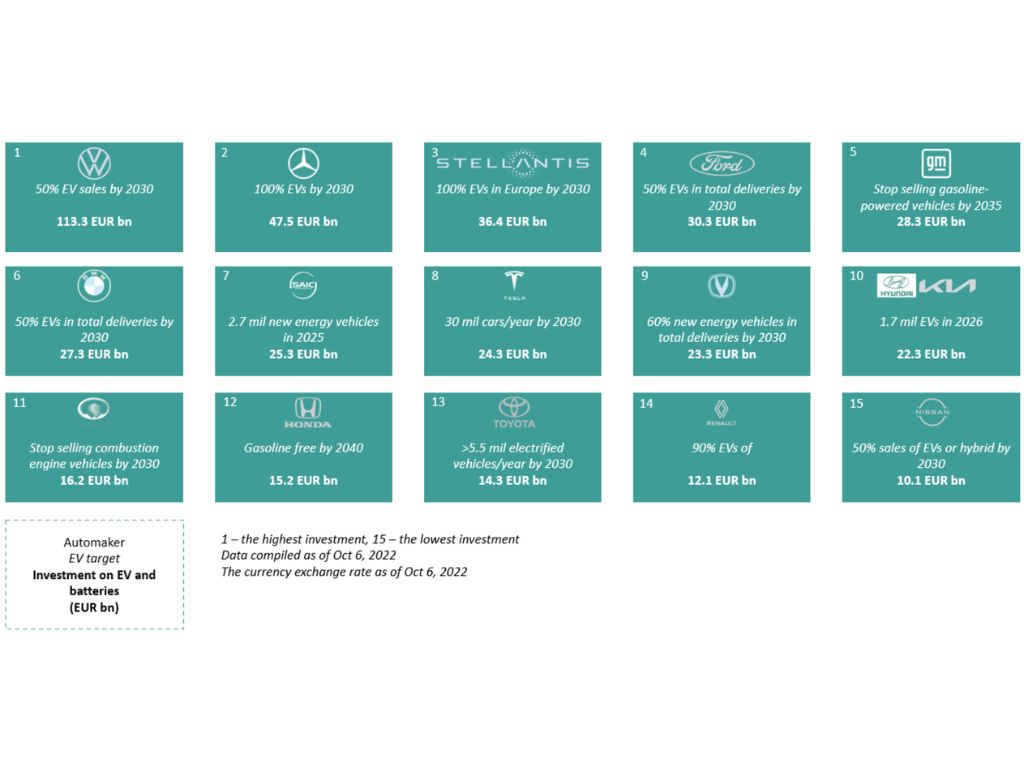 Sources: Reuters, Electrek, Insideevs, Nikkei, Performancemag, NYtimes, Toyota, Arenaev, France-24, Business-standard
3. The heightened awareness of consumers is the third factor that favors EVs. According to Ipsos, a market research firm, in 2022, users are more interested in EVs than ever before; they believe that EVs will have better performance than the combustion engine, will be more environmentally friendly, and bring greater economic benefits.
Growth barriers:
There's 4 main factors that make EVs still less appealing to many consumers. These are:
A short and precise answer to "When will electric vehicles be widespread?"
Based on continuous tracking and our tight relationships with automotive experts, M-Brain believes that EVs (Battery electric vehicles – BEV and Plug-in hybrid vehicles – PHEV) will be widespread in 2030-35, mainly in Europe and the US.
The possible impact of EVs on industries
The automotive industry has felt the impacts of the rise of EVs, and so do other industries. Insights about the effects of EVs on the automotive industry and other key industries, namely auto parts, the power industry, and logistics sector, are noted below.
Automotive industry: a new combat zone for legacy OEMs
Many, if not all, OEMs have publicly announced goals for fully electrified lineups at some point (soon) in the future. However, they still need sales of internal combustion engine (ICE) vehicles, at least in the short run, to support the capital-intensive yet barely profitable EV business. On average, EVs are still 45 percent more expensive to build than ICE cars.
OEMs must decide to what extent they can utilize their existing ICE vehicle assembly lines. Setting up a new factory can cost billions, but converting existing ICE platforms into an EV platform lowers the likelihood of hitting the maximum performance and driving range. Also, make-versus-buy decisions regarding key EV components keep OEMs awake at night. If they choose "make," they may have to bet on collaboration with new suppliers or M&A to get into the game as quickly as possible.
In any case, traditional OEMs are losing the economies of scale advantage they have had with the ICE vehicle business model. They have to face a new reality that start-ups with no automotive experience, such as Tesla, can successfully step into the EV landscape. Traditionally leading OEMs, namely BMW and VW, are far behind young(er) brands in terms of global EV sales (Global top 5 EV brands' sales share, Q2 2022 chart).
Global top 5 EV brands' sales share, Q2 2022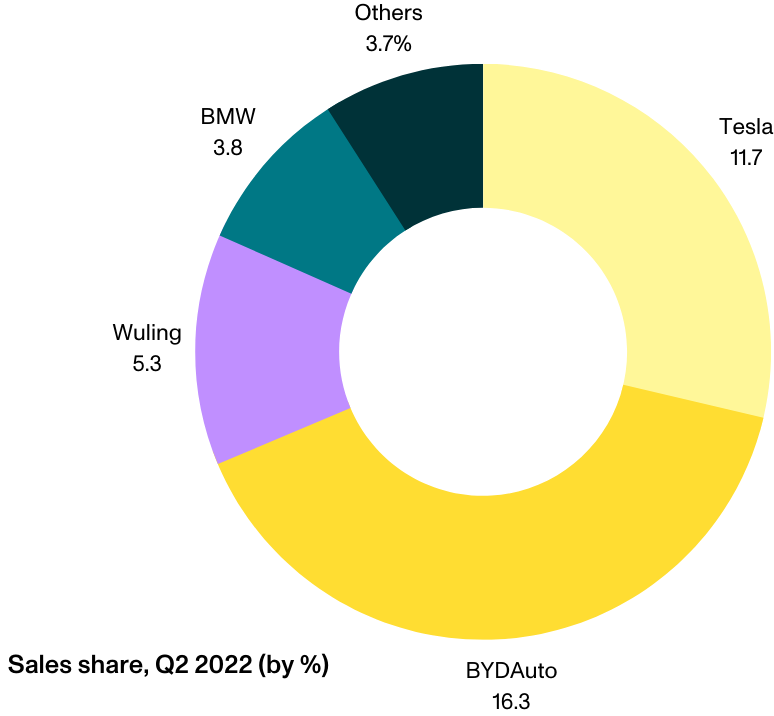 Source: Counterpoint Research Global Passenger Electric Vehicle Model Sales Tracker
No one can tell which companies will be the leaders when EVs become the dominant vehicle technology. What we know with certainty is that all players are encountering challenges with high production costs, limited EV infrastructure, and heavy competition. To stay in the game, it is vital to adopt a flexible and agile approach and continuously monitor the market.
Auto parts: some thriving, some struggling
Electrification is also disrupting the auto parts market. New components and products, such as the battery pack or EV charging infrastructure, shine. Others, such as automotive wiring, must go through some transformation. Meanwhile, the future of components only used in ICE vehicles does not look bright.
From their original position as one of the least interesting components, batteries are now a star and the most expensive component in an EV in this EV era. The global electric vehicle battery market is predicted to reach EUR 156.4 billion in 2028 from EUR 22.2 billion in 2020, at a CAGR of 28.1% during forecast period.
The five dominant battery manufacturers are CATL (34% 2022 global EV battery market share), LG Energy Solution (14%), BYD (12%), Panasonic (10%), and SK Innovation (7%). However, many new players do not want to miss out on the opportunity to enter the battery market. Government funds are also being invested in battery technology. However, identifying and developing the technology to safely improve battery range and performance does not happen overnight, and prices for raw materials for battery production (e.g., lithium, cobalt, and nickel) continue to increase. In other words, while the growing demand for batteries is unarguable, the factors impacting profitability requires thorough and continuous assessment.
European OEMs, such as Volkswagen, BMW, Mercedes Benz, and Stellantis, are moving battery manufacturing closer to home to secure the supply and reduce the carbon footprint that is inherent in transportation. There will be at least 40 Gigafactories and 21 battery assembly plants built in Europe—Germany is the top location with 12 Gigafactories.
Besides batteries, EV charging infrastructure is another crucial element to enable sustainable electrified mobility. Home charging alone is not enough to boost EV adoption. Therefore, many initiatives have been established to enhance the availability and convenience of publicly accessible chargers. According to Uswitch.com/electric-car, the Netherlands is the best country for EV drivers, with 24.15 charging stations per 10km2 on average. Furthermore, electric road systems may grow out of their infancy stage soon. In 2013, South Korea already tested the world's first road-powered electric vehicle network of 24 kilometers. Sweden recently announced plans to open the world's first permanent electric road in 2025.
Wiring harnesses, considered the vehicles' veins, are no doubt one of the most crucial elements in EVs and are receiving great attention from OEMs. EVs promise to offer many entertaining features, which can be downloaded and installed per request, like mobile apps. In addition, autonomous driving is being developed aggressively by key players, namely Volkswagen, BMW, and Stellantis. Such state-of-the-art functions require a huge amount of wiring, adding a potential increase of at least 50% of the current vehicle's weight, according to an expert's comments to M-Brain. Therefore, it is critical for the wiring harness suppliers to provide a solution that helps OEMs to reduce the cars' weight, space, and complexity. New EE architectures, which are believed to simplify the wiring system, making ways for automation, are expected to be implemented shortly. For example, Volkswagen intends to use its Scalable System Platform for the whole product portfolio in 2028-30, with Stellantis and its STLA starting in 2024. Some of the most active players are Aptiv, Bosch, and Dräxlmaier. Additionally, the time-to-market for EVs must be shorter than that for internal combustion engine cars—ideally, 12 months to a maximum of 24 months to develop and launch 1 new model, an expert highlighted. Since the wiring harness industry is an intensive labor sector, it is crucial to speed up the design phase and product testing and enhance production automation.
An EV requires many fewer parts than a comparable ICE one. The entire drivetrain of an EV, for example, needs around 20 moving parts, compared to 2,000 moving parts for an ICE vehicle. Therefore, ICE part manufacturers need to invest in necessary research and development, or collaboration and acquisition, to diversify and remain relevant in the automotive sector over the long run.
Power industry: a need for transformation and modernization
The current power grid can handle all EVs that are purchased in the coming years. According to International Energy Agency, the global electricity demand for selected EVs will increase at a CAGR of 40.3% between 2020 and 2025, reaching 229,392 GWh in 2025. The demand continues to increase until 2030 at a lower rate, a CAGR of 27.4% between 2025 and 2030.
Global electricity demand by selected EV types (GWh)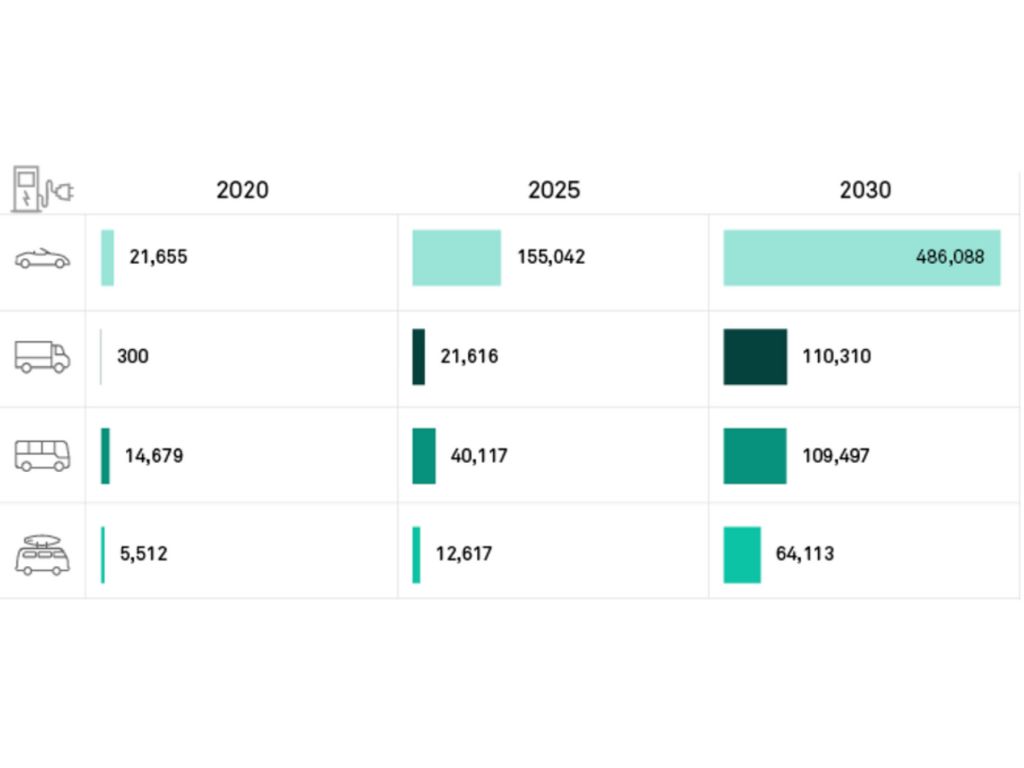 Source: Data (based on the International Energy Agency's sustainable development scenario) accessed on 9 September 2021, from International Energy Agency
100% on-road EVs will take time; our personal guess is at least 3 more decades. Hence, power companies have time (if they start investing) to build or upgrade existing power plants. Renewable energy sources like solar and wind power, as well as new technologies to store and distribute power efficiently, should receive more attention.
In fact, the power and EV sector will become the new "power couple," like ICE vehicles and the gas/oil industry has been to this point. Moreover, EVs can be integrated into power grids, thanks to, for example, smart grid technologies, so that EVs can be used as two-way power resources.
Logistics sector: a growing environmental consciousness and/or potential increase of their bottom line
A growing number of logistics companies are switching to electric trucks to reduce carbon emissions, driven by companies' own green initiative and/ or government regulations. DHL promised to reduce its net carbon emissions to zero by 2050, and FedEx plans to purchase only EVs by the year 2030. Compared to ICE fleets, EVs are believed to facilitate savings in terms of fuel cost, maintenance cost, and overall operational cost.
ICE vehicles versus EVs

Source: Esmito
Online commerce platforms are pressured to push the adoption of EVs. Amazon, for example, announced that they will add 100,000 EVs for delivery by 2030 to reduce its carbon emissions.
A final note
It is unquestionable that EVs will eventually replace the ICE and bring enormous opportunities to various industries, such as electric power and high-voltage battery manufacturing. However, challenges such as new consumer demands, technology requirements, and supply chain models are expected. We strongly recommend staying updated on market trends and developments on a consistent basis in order to develop meaningful strategies and stay ahead of the game!
With long-term experiences in different industries, including automotive and its partners, M-Brain offers both ad-hoc research projects and continuous news monitoring services to help firms stay updated, remain agile with new demands, and be ahead in competitive markets.